The weekend has passed, and with it Summer's preview.
We had glorious sun as well as magnificently terrifying lightning storms; the very epitome of Summer. What I love most about the freshly washed grass, warm sun and post-electrical storm air is the smell, my goodness, it's indescribable. The air is charged with the smell of old rain, or pending rain for that matter, and it just fills me up with life. I feel energised whilst shivers run down my spine, as awesome as lightning is, it still scares me senseless unless I am in the safety of my home - I need my house of bricks.
Today was a kaleidoscope of sunshine, wind and rain. The hot temperature when mixed with grey clouds, bellies filled with water waiting to be expelled leads to an overall mugginess, I'm not sure whether to put my gumboots on or slap on a singlet. I do not care for humid weather, I like to be dry, whether the weather hot or cold, no stickiness for me please, my hair just won't cooperate.
I neither wanted to be in or out, so I opened my kitchen doors as wide as they could stretch and decided to do some baking whilst the cool breeze blew soothingly onto the nape of my neck, damp with perspiration.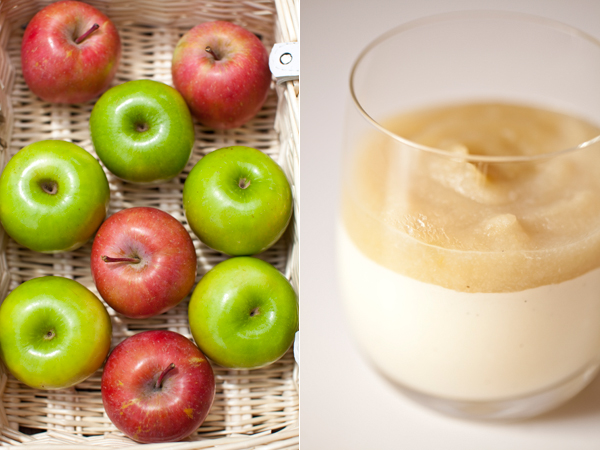 ease: 5/5.
prep time:
15mins to get semolina done and apples in the pan.
cooking time:
15mins.
total: 30mins plus 1 hour cooling time.
taste: 3.5/5.
The texture and lack of flavours makes this seem a little like baby food. I added some vanilla bean seeds to the semolina mixture but I think the apples could have used a good spicing to bring some depth of flavour. At best it is like a plain milk pudding with stewed apples on top. If you want to try it add some cinnamon, nutmeg, mixed spice - something. It is mildly sweet with a slight tartness from the apples.
would I make it again: No.
recipe:
Semolina apple cream