The thrill of Autumn; bringing a Summer's day when you need it most.
The previous week's concert of rainy recitals and chilly chorus lines was all but a forgotten dream as the vitalising sunlight made its way through the streets and into our hibernating bodies, bringing us back to life. The strength of a warm, cloudless day to brighten spirits and put a spring in you step is unmatched - nothing is a quicker pick-me-up than a ray of sunshine after encores of dreariness.
It seems everyone was eager to step outside and bask in the warmth as I found the roads busy and the shopping precincts buzzing with people on a sun-drenched-high. My three childhood girlfriends met me at a cafe to fill our tummies and fill each other in, before we took our conversation street-side for some fresh air and hopefully colour on our cheeks. We parted ways after purchasing a few chocolates for the road and headed off to our prospective plans. I was lucky today in that I had no prospective plans so I was free to indulge myself in whatever way I chose.
The best thing about individual desserts is that you can save some for a later date, and although I made these two days ago, I got to dip my spoon into its depth whilst sitting on my porch step today - and in case you were wondering, it's delicious in both cold and hot weather :).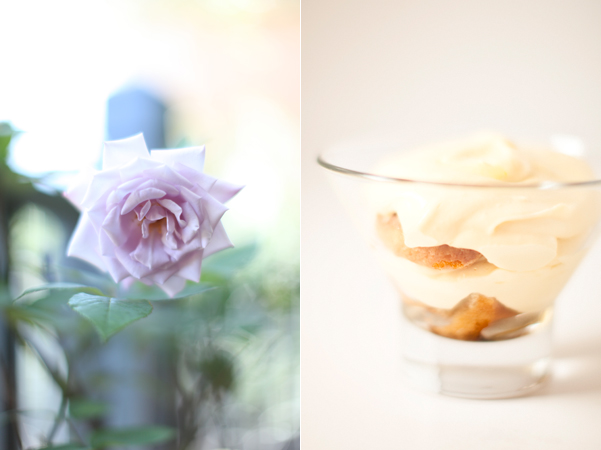 ease: 4.5/5.
prep time:
5mins to get ingredients ready.
cooking time:
18mins to get into glasses, and the longer in the fridge the better although you could serve straight away if necessary. I made the coffee mixture whilst the eggs were beating, and then poured a small amount into the saucepan straight away to reduce whilst I dipped the biscuits into the remaining liquid in the meantime.
total: 23mins plus cooling.
taste: 4.5/5 -
my favourite Tiramisu yet.
Unless I find a better recipe this is will be the one I use, not only for it's taste but it's ease. The biscuits had the perfect blend of coffee with the wonderful intensified syrup at the bottom. The mascarpone mixture is what nailed it for me - it was so beautifully fluffy that it was like sinking my teeth into heaven's pillow. The Bailey's and Vanilla Kahlua (rather than Frangelico) gave it a wonderful creaminess and faint alcoholic strength that tied into the coffee and sweetness like two dancers doing the tango. It was sweeter than some tiramisus but well balanced and luxurious to eat.
I halved the recipe and made enough for 6 glasses.
would I make it again: Yes.
recipe:
Tiramisu