Breathe in.....breathe out....
My mind focuses only on my breath as I lead with my hips into downward dog. Breathe in, breathe out. The hour skipped by so quickly that I felt my feet barely touched the mat. Despite its fleetingness I feel peacefully energised and centred; exactly what I was hoping for. My body slipped into the poses effortlessly, as if it had been waiting patiently for this day to come.
Yoga is something I have always wanted to do, but never did. Fast paced boxing classes or energetic dance classes would always win out, I thought high-energy, calorie-burning exercise would be better for my body. It's only after being told by many that calming activities would benefit me greatly right now that I finally took the long-overdue step. I am glad I did. I needed this change. Yoga helped me to release some of the weight, to breathe again. I didn't realise I had been holding my breath since he passed away; it felt good to exhale some of the pain.
On the way home I stopped past my grandmother's house with the last piece of the
pear, ginger & treacle cake
. We chatted and she remarked that I looked better.
I felt better
, I told her. Arriving home I put on my favourite apron, played the Amelie soundtrack (my cooking music) and began to make something to feed my hungry body. As my knife carved into the orange flesh I heard a faint whisper from my tear-stained heart...
thank you
...
You're welcome.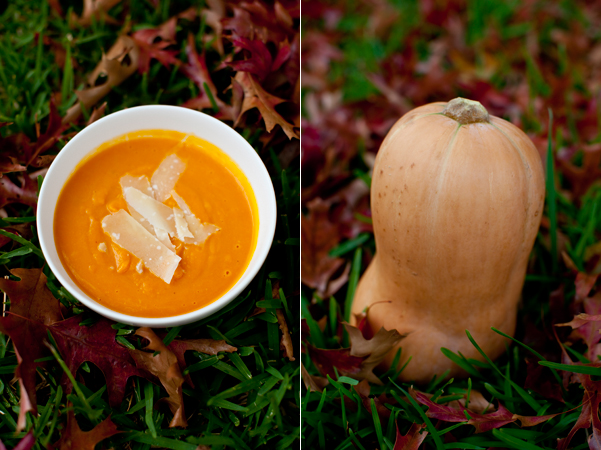 ease: 5/5.
prep time:
5mins.
cooking time:
50mins.
total: 55mins.
taste: 4.5/5.
Simple and splendid - it's squash-tastic.
As far as butternut squash or pumpkin soups go, this is my favourite. The fact that it's so easy to make and uses so few ingredients just adds to its appeal.
The soup has a gorgeous silky texture, but as I prefer my soups a little thicker, I increased the butternut by 40% the next time I made it as you can see in the
second
photo. It was lovely both ways - the latter being slightly sweeter due to the extra caramelised butternut. I'd say my ideal texture lies in the middle, perhaps 20% extra butternut...
The parmesan adds a great cheesy saltiness to the dish without competing with the butter nut- this really is all about the vegetable, as it should be.
The sweating stage took around 15mins for me, rather than 5mins.
would I make it again: Yes
, I have already made it twice, I can see it will become a cold-weather staple.
recipe:
Silky butternut squash & parmesan soup